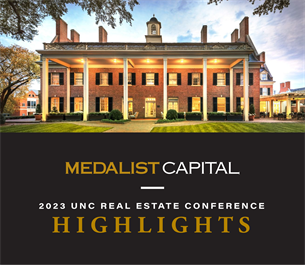 2023 UNC Real Estate Conference Highlights
Over 900 real estate professionals attended the 21st annual UNC Real Estate Conference on April 20th. Of note, there were 16 Medalist Capital attendees including two of our summer interns, which was a wonderful introduction for them to a wide variety of real estate professionals and offered some real insights into today's complex real estate market. The event was kicked off by David Hartzell, a Distinguished Professor of Finance at the Kenan Flagler Business School. The morning panel included leaders in the office, retail, and hospitality sectors, and was followed by Bob Faith, Chairman of Greystar. The conference wrapped up with an informative afternoon session hosted by Laura Ullrich, Senior Regional Economist for the Richmond Federal Reserve, and a cocktail hour. Given real estate executives tend to be more optimistic and positive, I think most left with the feeling that this too will pass, the markets will stabilize, and opportunities will present themselves. Hopefully, we will learn from what seems to be a recurring theme: too much leverage is never good and real estate is cyclical.

Once again, the highlight of the UNC Real Estate Conference was the Medalist Capital dinner, which topped out this year with 100 attendees including lenders, developers, private equity, private investors, and a representative of virtually every investor in a typical real estate capital stack. UNC Head Football Coach, Mack Brown, gave an after-dinner talk, which fired the crowd up with the virtues of leadership, hard work, teamwork, having fun, and great teammates making great teams. We were all ready to run through a wall when dinner was over.

As a reminder, past speakers at the Medalist Capital dinners have included UNC women's soccer coach, Anson Dorrance; UNC men's basketball coach, Roy Williams; and UNC athletic director, Bubba Cunningham. We anxiously await the 2024 UNC Real Estate Conference/Medalist Capital dinner. 2023 is going to be tough to top. The Medalist Capital team looks forward to assisting you with any of your finance, equity or investment sales needs. Please reach out to your Medalist contact, as we are active in all facets of real estate debt, equity sourcing, and investment sales.
Written by Howard Brooks.