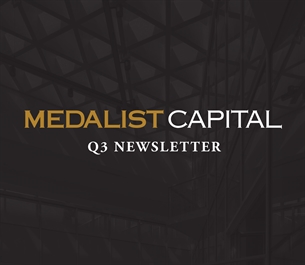 3rd Quarter Newsletter
A very hot summer is over, and we are now into fall, my favorite time of year with cooling temperatures, autumn colors and great sporting events to enjoy. One of the few benefits of having a lot of gray hair is that I have seen several real estate cycles. Early last year I told a young multi-family sales broker, who coincidentally happened to be my son, that making deals was not always going to be like picking up wallets in the parking lot. He now has a better understanding of what I was talking about as sale and debt transactions are all down significantly from this time last year. We are clearly facing some headwinds as the Fed has raised rates from near zero 18 months ago to a current target of 5.25%-5.50%. As of this writing, the 10-year treasury is at a 16-year high of 4.80% while 30-day term SOFR is 5.33%. Banks continue to tighten credit – they are not getting many payoffs as they try to shore up their balance sheets. Our life companies remain active, although many have reached their allocations for this year. The life companies are able to pick and choose among loan opportunities and lower leverage transactions will get the most attention. Spreads range from about 180 to the mid 200s over the corresponding treasury rate for most transactions. With current rates, it is usually debt service coverage that is the constraint versus LTV.
During the third quarter, Medalist Capital closed $175 million in 26 loan and sale transactions. Product types included multi-family, retail, industrial, self-storage, and office. Lending sources included life companies, banks, agency, and credit unions. YTD volume is $763 million in 71 transactions.
There are a lot of economic experts that are much better than me at interpreting graphs and analyzing Fed statements. Most of what I read falls along the lines that rates will be "higher for longer". Having said that, my intuition tells me that once we can see the end of the Fed raising rates and that the next moves will be lower versus higher (no matter how long that may be), then the market should react positively with lower treasury and borrowing rates. As such I will end on a positive note in that I believe there are opportunities in good and challenging real estate markets. Life insurance companies are only a few months away from new allocations. Medalist Capital continues to have very strong lender relationships and we can offer exceptional value to borrowers in times where credit is more constrained than in the past. Please let us know how we can help you.
Scott Kenney