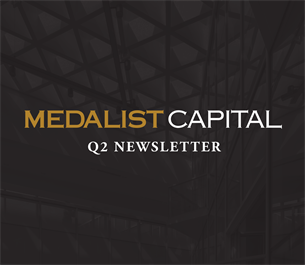 2nd Quarter Newsletter
I hope everyone had a great Fourth of July holiday and is enjoying your summers in this crazy real estate environment. Trying to stay positive has been a challenge for this eternal optimist. We have to keep battling and we will get out of this cycle at some point – just wish we knew how long!
Despite the more limited capital in the market that we are used to and interest rates continuing to go in the wrong direction, Medalist Capital closed 22 transactions during the 2nd quarter totaling roughly $238 million with industrial (41%) and multifamily (33%) leading the way. Other product types included self-storage, mobile homes parks, medical office and retail. Year-to-date production is just under $600 million comprising 46 transactions. In the 2nd quarter, we closed loans with 17 different lenders – consisting of mainly our life companies, banks, agencies, and a few debt funds.
I am going to dodge any predictions on how the Fed is going to act on rates for the reminder of the year – just have to have hope that things will start to ease and that we have seen the peak already. We recently have seen the 10-year treasury sneak above 4.00% – last two times were May 2008 and October 2022. Stabilized assets with leverage in the 60% to 65% LTV range can still get respectable rates for 7 to 10 years. Spreads are in the 180 to lower to mid 200's, fixing rates at 5.75% to 6.50%. Lower leverage transactions will get better spreads locking in rates today around 5.50%.
Some life companies are done for the year as their allocations have been met already for 2023 but others continue to lend, taking advantage of good refinance opportunities with less competitors in the market. Most banks are still heavily focused on retaining deposits if they are lending and typically want to focus on existing clients.
Please do keep us in mind as your debt, equity and investment sales needs arise. We have the strongest stable of life companies in the industry who want to help and be viewed as part of your team. We are also fortunate to be in one of the best real estate markets in the country. In the past two weeks we have had numerous life companies visit us looking for good opportunities to put their money to work. Let's stay positive and I hope everyone has a great rest of the summer!
Bat Barber