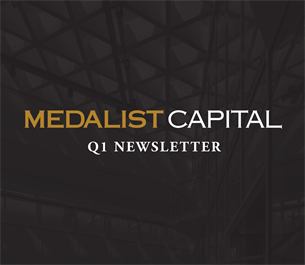 1st Quarter Newsletter
It is springtime in the Carolinas and the pollen season has been brutal. The good news is that the end is now in sight and Carolina blue skies lie ahead!
It is hard to believe that only a year ago the fed funds rate was .50% and is now at 5% after eight rate hikes, including two in the first quarter. Hopefully rate hikes are finally in the rear-view mirror. Meanwhile the 10-year treasury was at 2.48% a year ago, 3.87% at the start of the first quarter, and with much volatility, ended the quarter at 3.37%. Deals can get done at that treasury rate. The rate hikes combined with the Silicon Valley Bank and Signature Bank failures in mid-March created a lot of uncertainty in the market as banks became very focused on retaining deposits and shoring up their balance sheets. It also tended to curb some of the enthusiasm from lenders coming out of the MBA Conference.
During the first quarter, the Medalist Capital team closed 24 transactions aggregating more than $350 million in just about every product category - office, retail, industrial, multifamily, medical office, student housing, self-storage, mixed-use and manufactured housing. The production during the quarter was financed by 17 different lenders. We also finished the quarter with a bang by closing a $200 million trophy office deal in downtown Charlotte with one of our correspondent life insurance companies.
We are in constant dialogue with our many capital sources, so it is a great time to talk to your Medalist Capital contact. We have a deep stable of lenders that can address virtually any situation. Although it appears that the market will remain a bit choppy in the immediate future, we can help you navigate your way through it.
Todd Lankford