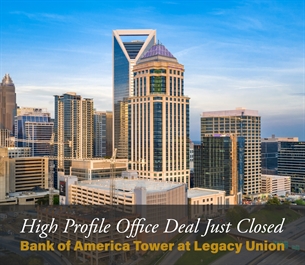 Medalist Capital Arranges Financing for Trophy Office Deal in Charlotte
Medalist Capital announces it has arranged a $200 million, 5-year loan for Highwoods Properties, Inc. (NYSE:HIW) secured by Bank of America Tower at Legacy Union in Uptown Charlotte. The loan was provided by a correspondent life insurance company at a fixed rate of 5.69%.
The loan is secured by a Class A office property in the heart of Uptown Charlotte at the Legacy Union campus. The Bank of America Tower at Legacy Union, built in 2019, is a 33-story tower encompassing 834,711 square feet and includes an executive parking deck connected to the building. The property is 98% occupied by 12 tenants.
The debt placement team was led by Bat Barber, Principal in Medalist's Raleigh office, as well as Don Williams, President and Principal in Medalist's Charlotte office.
"Given current market conditions, Medalist Capital feels very fortunate to have helped arrange this permanent financing for such a high-quality sponsor, Highwoods Properties." - Bat Barber