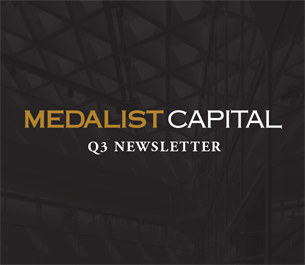 3rd Quarter Newsletter
Medalist Capital had a solid third quarter closing 29 loans totaling more than $262 million. We originated loans with life companies, banks, and specialty lenders. We were active in all product types, with multifamily, industrial, and self-storage leading the way. Additionally, our investment sales team continues to expand, closing four sales transactions during the quarter. Despite some of the headwinds listed below, we are forecasting to have one of our best years in 2022.

Inflation, a sagging market, and rising interest rates continue to dominate the economic news, without much relief in sight. Midterm elections are looming without much hope that our government can function in any sort of bi-partisan manner. The Fed seems intent on continuing to raise rates to rein in inflation; even at the risk of hiking us into a recession (if we're not already in one). The residential real estate market is cooling off as rates for 30-year mortgages have nearly doubled in the last twelve months. Not only has the yield on the ten-year treasury continued its steep climb, rising nearly one hundred basis points during the quarter and breaking the 4% barrier, but spreads have widened as well, pushing borrowing costs to heights the market has not encountered in ten or more years. The steep rise in interest rates coupled with the uncertainty and volatility of the debt market has slowed commercial real estate transactions. Some lenders are on the sidelines, and those who remain active are cautious.

We expect the next few quarters to be challenging times for borrowers, with the uncertainty with respect to interest rates and cap rates dominating the decision-making process. That being said, we have our fingers on the pulse of the market and know which capital sources have the most active and aggressive capital. During these difficult times our team's experience, dedication, and relationships in the lending community will add significant value. We look forward to helping you navigate through the coming months.
Rob Wilson, Charleston Office