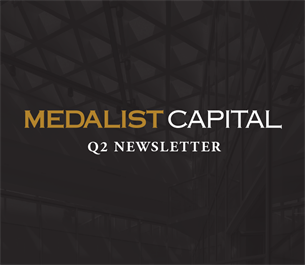 2nd Quarter Newsletter
We hope that you are having a great summer and enjoyed a much-needed break over the July 4th weekend. There was a dizzying array of political, social and economic turmoil in the 2nd Quarter. A long weekend of relaxation with family and friends was certainly welcomed.
It goes without saying, but inflationary pressures and the Fed's actions to restore price stability dominated economic headlines during the second quarter. Back-to-back (and historic) rate increases in May/June resulted in increased borrowing costs for leveraged buyers…and execution risk for in-process acquisitions that did not have interest rate protection. Notably for fixed rate borrowers, the 10-Year Treasury increased from 2.38% to 2.97% during the quarter. While this was certainly a large jump, we did get some downward relief off of the high of 3.48% on June 14th. On the floating rate side, borrowers are contending with a higher Term SOFR index (1.94% at the time of this writing) with further near-term pressure inevitable given expected Federal funds rate hikes coming this year (75 bps is an almost certainty for the July meeting). Exacerbating floating rate debt costs are increasingly expensive interest rate cap purchase requirements from most banks and debt funds. This has certainly been a shock to the collective system given the mostly stable, low-rate environment we have enjoyed over the last several years.
Even with this uncertainty and volatility, Medalist Capital had a very strong second quarter. We completed 38 transactions (across 12 states) during the quarter for nearly half a billion dollars in loan closings. Asset classes included retail, office, industrial, multifamily, self storage, manufactured housing, hospitality, and two land acquisitions. Roughly a third of this deal volume was in the form of construction debt. Our correspondent life companies, banks, credit unions, debt funds and agency lenders were all represented in our second quarter closings. We are proud to have executed on this business for our clients during a rapidly changing time period.
We are also pleased to report that our investment sales platform, which formally began at the beginning of this year, is fully hitting stride and we have multiple 3rd Quarter closings underway. Please keep Josh Points, Trey Navo and Marcus Ginyard in mind for your investment sales and advisory needs.
While we expect there to be headwinds for the remainder of the year, we are pleased that fundamentals are strong and our geographic markets are robust. That being said, ongoing capital market volatility is likely to make debt placement stressful and harder to navigate. That is truly where the experience of a valued partner like Medalist Capital can add value. We stand ready to ensure the best loan terms and execution in the market in the most timely and efficient manner. We look forward to working with you – enjoy the rest of the summer!
- Bryan Brooks