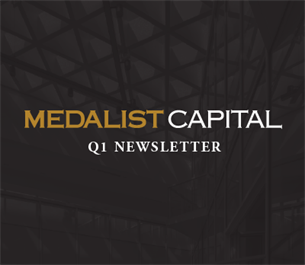 1st Quarter Newsletter
As we enter the second quarter of 2022, my Medalist Capital colleagues and I wanted to share a few quick highlights and observations from the first three months of the year which included robust lending activity and an eye-popping run up in the 10-year US treasury yield.

We kicked off the quarter on January 3rd with a 10-year UST at 1.51%; it closed the quarter at 2.33% and has been on a non-stop rise ever since, currently yielding 2.78%. The Fed has been very clear with its intent to raise rates and contain inflation, but this most recent surge in the 10-year yield seems to be fueled by Fed member comments and meeting notes suggesting they will also initiate a reduction in the Fed balance sheet ($1.1 Trillion per year) sooner than anticipated (May), and at a much more aggressive pace than what they have done in recent tightening cycles (2x the 2018 pace).

Compounding this upward shift was a spread widening in the investment-grade corporate bond market, against which many lenders measure spreads for commercial mortgages. It was a recurring topic at our annual Mortgage Bankers Association conference in February. We were encouraged to hear that the culprit was likely over-supply rather than an underlying deterioration in credit quality, as corporations loaded up on debt one last time ahead of the Fed tightening cycle. This theory seems to be playing out now that those spread indexes have declined 40 basis points from their mid-March peak.

Like the rise in treasury yields, our production accelerated from month to month culminating in 31 deals totaling $450 Million. Retail, office, and multifamily offered a balanced distribution for most of the volume along with a handful of industrial and self-storage deals, a mobile home portfolio, and one hospitality property.

Just as fans returned to sold-out concerts and college and professional sports championships, mortgage bankers returned to our annual MBA conference in San Diego after a two-year hiatus. Like many industries in 2021, mortgage lending saw no slow-down, and almost all the 40 lenders we met with hit their 2021 production goals and have the capacity to exceed them again in 2022 if demand holds. Attendance was noticeably lower than years past but allowed for more genuine interaction among those of us who made the trip, and it was long overdue. After all, it is the people and the relationships that provide meaning in any business. It was refreshing to be meeting in person again, and I hope all of you have been able to experience it again as well.

If you need any help, another uptick we are experiencing is lender visits; so please be on the lookout for calls from our producers as we coordinate meetings, site visits, and market tours for our lenders that are traveling back to our markets. Thank you for your continued trust in Medalist Capital, and we look forward to working with you in the months ahead!
- Roger Montague