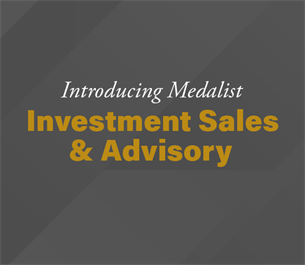 Medalist Capital Launches Investment Sales Division with Hires from Cushman & Wakefield
Charlotte, North Carolina – Medalist Capital is broadening its service offerings with the launch of a dedicated investment sales and advisory division based out of the expanded Raleigh office.
"Josh and Trey are two exceptional individuals who embrace the values we hold dear at Medalist, so we could not be more pleased to have them join the team. They will provide the professionalism and mechanics with which we will grow our investment sales volume, enabling us to serve our clients in even more ways." stated Don Williams, President of Medalist Capital
This new venture embraces the client-centric model Medalist is known for and will be led by Trey Navo and Josh Points. Both Navo and Points joined Medalist from Cushman & Wakefield. They join Medalist's newest hire, Marcus Ginyard, who will focus his efforts on business development. Medalist's integrated approach uniquely positions the investment sales team to service a range of clients in terms of product type and deal size.
"Trey and I are very excited to join the Medalist team," says Josh Points, "The culture at Medalist is a unique environment because it is driven by performance but not at the cost of integrity. Having the opportunity to work with a team that produces high-quality work and celebrates the success of each member is motivating and refreshing. We absolutely believe that our clients will enjoy the process of doing business with Medalist."
The firm posted another record year in 2021 with transactions totaling over $2 billion, a 79% repeat client rate, and a servicing portfolio exceeding $3.4 billion.
About Medalist Capital
Medalist Capital is a commercial real estate financial services company that specializes in mortgage banking, equity placement and structured finance, and investment advisory. Since its inception in 2004, Medalist has successfully completed over $15.7 billion in transaction volume and have offices in Charlotte, Raleigh, Charleston, and Atlanta.
For more information, please call 704.333.4145, visit medalistcapital.com.