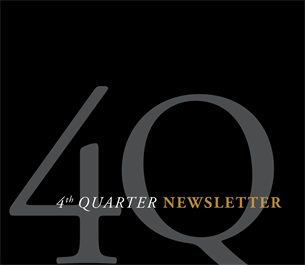 4th Quarter Newsletter
We hope that everyone had a happy holiday season enjoyed with family and friends. The primary headlines over the past few weeks seem to be centered around the new omicron variant of Covid-19, but as my spouse noted, "I think if I have to get Covid, I want this kind." While we should all take reasonable precautions regarding the virus, at least life, business and commerce seem much more normal and vibrant compared to this time last year.

A well-known author once said that time moves slowly but passes quickly. It is hard to believe that 2021 is behind us, but we are very pleased to report that Medalist Capital had a record 4th quarter, closing $865 million of loan volume in 55 separate transactions. It is interesting to note that Medalist producers utilized 31 unique capital sources to achieve this volume, which should tell our borrowers that we are working very hard on their behalf to achieve the very best possible loan executions. Loan sizes in the 4th quarter ranged from $1.5 million to $62.5 million and included most major property types. Long-term interest rates and loan spreads remain very attractive despite the fact that the Fed has indicated that there will be rate hikes and a reduction in bond holdings in 2022. As all of our lenders have renewed allocations for the new year, it remains a great time to be a borrower. After an unusual one-year hiatus, the Medalist Capital team looks forward to seeing all of our lending partners at the February MBA conference in San Diego.

In closing, we would like to give a big thank you to our borrower and lender clients for allowing us to enjoy such a successful record 4th quarter. We are anxious to keep this momentum going in 2022. In this regard, please be on the lookout for our annual Start of the Year Update which should be forthcoming very soon.
- Scott Kenney