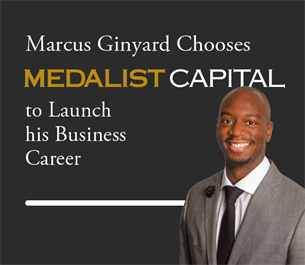 Marcus Ginyard Chooses Medalist Capital to Launch his Business Career
Charlotte, North Carolina - Medalist Capital is pleased to announce the hiring of recently-retired professional basketball player, Marcus Ginyard. In his role at Medalist, Ginyard will focus on finding new opportunities and keeping current deals on track. He will manage client and lender needs while also keeping a pulse on the market.
"At Medalist, we hold ourselves accountable to honesty, integrity and hard work at all times; Marcus exemplifies those virtues and more. His competitive nature and warmth of character make him a perfect fit for our Medalist team, and also positions him for tremendous success with our business development efforts. We are excited for our growth in 2022, and Marcus is an exciting addition to spark what should be a great year ahead." said Don Williams, President at Medalist Capital.
Prior to joining Medalist Capital, Ginyard played over ten years of professional basketball in eight different countries throughout Europe and the Middle East. Ginyard is a student-athlete graduate of the University of North Carolina at Chapel Hill. He was the captain of the Men's Basketball team, ACC Champion in 2007 & 2008, as well as a National Champion in 2009. Marcus also served as the President of the Student Athlete Advisory Council during his time at UNC. Carolina Athletics remain an important part of Marcus' life.
"In my search for a career after basketball, it was important to surround myself with a team that valued ambition, collective responsibility, and integrity. I think Medalist Capital is the perfect fit and I am really excited by the opportunity to start my business career here," said Ginyard.
While Ginyard will be based in Raleigh, he will support all four offices across the Southeast including Charlotte, Charleston, and Atlanta.
Medalist Capital was founded with the goal of becoming the premier independent commercial mortgage banking firm in the Southeast. Capitalizing on experience and growth in personnel has allowed Medalist to execute a deal volume of over $15.7 billion since inception of the firm. Medalist Capital closed over 160 loans in 21 states across the U.S. in 2021 and has an aggressive growth plan for 2022.

About Medalist Capital
Medalist Capital is a commercial real estate financial services company that specializes in mortgage banking, equity placement and structured finance, and investment advisory. Since its inception in 2004, Medalist has successfully completed over $15.7 billion in transaction volume and have offices in Charlotte, Raleigh, Charleston, and Atlanta.
For more information, please call 704.333.4145, or visit medalistcapital.com or marcusginyard.com.