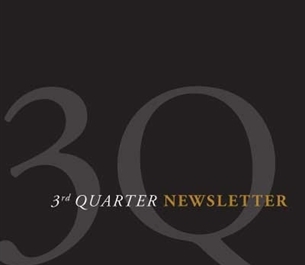 3rd Quarter Newsletter
Hope everyone has been enjoying the gorgeous weather lately. Looking forward to the true fall weather and almost ready to break out my toboggan collection but not just yet. As our lives seem to be getting back to normal, time sure seems to be going by at a quicker pace compared to the pandemic days. Hopefully we will have a normal Halloween, Thanksgiving, and Santa Claus coming to town.

We feel very fortunate that Medalist Capital has continued to have a very active year and are on track to have possibly our best year since we started in 2004. In the 3rd quarter, we closed 44 loans totaling roughly $352 million. Pretty even split on product type: (9) office, (12) multifamily, (8) industrial, (10) retail and (5) mixed-use/other. Twenty-one refinances, eighteen acquisitions, and five construction loans. Year-to-date loan volume has been $1.1 billion, and we are on track to exceed $1.7 billion for 2021.

Despite the pandemic, all capital sources - life companies, banks, debt funds, conduits and the agencies - were very active in the 3rd quarter. Most of our life insurance companies have already reached their allocations for 2021 and are starting to get 2022 deals signed up. Please know we do have plenty of lenders that want to finish off the year strong and are willing to get aggressive and get a few more transactions across the goal line in 2021. As Howard Brooks mentioned in our last newsletter, the hunger to close loans remains at an all-time high. While multifamily and industrial continue to be the favored product type, seeing nine office deals and ten retail deals close in 3rd quarter is hopefully an encouraging sign for these sectors moving forward, as lenders need to balance out their portfolios being too heavily weighted in multifamily and industrial. Interest rates continue to be incredible. The 10-year treasury has been hovering around 1.50% for the past few weeks. With leverage at 60% or below, all in rates are still well below 3.00% for 10 to 20 year terms. Higher leverage loans are still extremely attractive getting locked in the low to mid 3%'s.

As we close this year, please be ready to hear from your Medalist producer about face-to-face visits/meetings, as many of our life companies are traveling and planning 4th quarter visits to our markets. We are grateful to work with the deepest stable of lenders we have ever had. As I have said often, one of the most rewarding parts of our job is introducing our borrowers to our lenders from all over the country. Cheers to hoping that 2022 brings us all many more handshakes, hugs, laughs and fewer fist bumps!

All of us at Medalist Capital want to thank our clients and lenders for helping us make this year one of our best. We are anxious to keep the positive momentum the remainder of this year and into 2022. Please put us to work!
Bat Barber