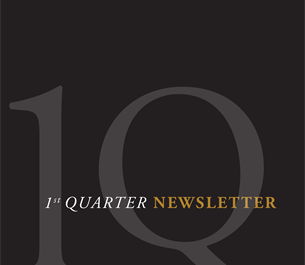 1Q Newsletter 2021
I hope everyone had a safe and productive start to 2021. After such a challenging 2020, it felt good to turn the page and embrace the hope and optimism that seemed widespread to start this year. With the historic March jobs report, a successful vaccine rollout thus far, a declining unemployment rate, and consumer confidence at a post-pandemic high, the country seems well-positioned for continued economic improvement and getting to the other side of the pandemic. Anecdotally, if you traveled for spring break recently, you likely saw America's desire to get out of the house firsthand!

After coming off our strongest month ever in December, Medalist Capital had a productive 1st quarter, closing 23 loans with a total volume of approximately $205 million. Interestingly, retail accounted for 30% of our 1st quarter transaction volume, followed by multifamily (26%), office (17%), industrial (13%), self-storage (9%), and hospitality (5%). As was mentioned in our previous newsletter and Start-of-the-Year Update, multifamily and industrial continue to be the favored property types among lenders. However, our 1st quarter clearly shows that those property types are not the only ones we are finding debt for. Loan sizes ranged from just under $1 million up to $25 million with an average of $8.9 million. We have a robust pipeline heading into the 2nd quarter and fully expect 2021 to be another successful year for production.

We also have some exciting news on the personnel front as we hired two summer interns and one full-time analyst this past quarter. Rexx Hallyburton, a recent Washington & Lee graduate, will join us in April as a full-time Analyst in the Raleigh office. Additionally, we have two rising seniors at UNC joining us as interns this summer – Mary Elliott McCabe in our Charlotte office and James Wiley in our Raleigh office. We are incredibly excited to have such a talented group joining our company.

Because we were unable to travel to San Diego this past February for our annual MBA CREF conference, where we typically meet with most of our lenders in person, we adopted the Zoom (in our case, the RingCentral) culture and conducted approximately 50 virtual meetings with our lenders. While we clearly prefer meeting in person, this was a nice substitute that allowed us to interact with our lenders individually and learn more about their 2020 results and objectives for 2021. As Don mentioned in our Start-of-the-Year Update, our lenders have full allocations for 2021 with a focus on industrial and multifamily loans, but as our 1st quarter results show, we are still finding homes for most property types with our diverse lender base.

A significant 1st quarter theme in the capital markets was the rise in Treasury yields across most of the curve, with the more dramatic increases on the longer end of the curve. The 10-year Treasury yield began the year at 0.93% and closed on 4/2/21 at 1.72%, an increase of 79 basis points, compared to an increase of 8 bps and 23 bps for the 2- and 3-year yields, respectively. The direction of spreads, however, is difficult to quickly summarize as it depends on property type, leverage, lender, and deal-specific characteristics. Call your Medalist Capital contact to discuss in more detail.

We appreciate the trust you put in Medalist Capital to assist you with your financing needs and are ready to be a part of your team for any debt or equity needs you have for the remainder of 2021.
Best Regards,
Scott Mauzy