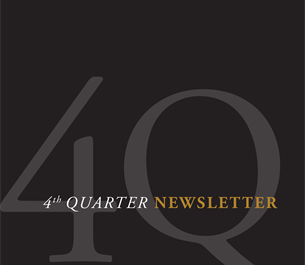 4Q Newsletter 2020
2020 is OVER! DONE! FINISHED!
What a crazy year! While we are still battling Covid-19, working to improve race relations in our world, and navigating an uncertain political landscape, I am confident that 2021 will prove to be a healthier, more empathetic, and rejuvenating year.
Medalist Capital came into 2020 on a roll. We had set many production records in 2019 and were carrying a robust pipeline into 2020. The onslaught of Covid-19 virtually brought loan originations to a halt from mid-March through mid-May as we all tried to shelter in place. Lenders were buried with forbearance requests; banks were trying to figure out how to process PPP loans; and real estate investors were busy planning for the worst. Fortunately, almost unbelievably, we made it through. And activity began to pick back up. After an encouraging third quarter, Medalist Capital managed to close 67 transactions totaling more than $450 million in the 4th quarter. For the year, we arranged 151 transactions totaling almost $1.2 billion. Although our deal volume was down a little more than $500 million, we closed 37 more deals in 2020 than we did in 2019. We were more active with banks last year than ever before, but we still managed to close 65 loans with our correspondent life companies, pushing our servicing portfolio over the $3 billion mark. We remain active in all product types, closing 53 multifamily deals, 46 retail, 18 office, 17 self-storage, and 12 industrial. We could not have accomplished all of this without an amazing array of lenders and our strong borrower relationship. We are grateful for you all.
As we head into 2021, lenders are for the most part "back in business." Multifamily and industrial borrowers are still enjoying an aggressive lending atmosphere. Lenders are exercising a bit more caution on office and retail properties. While longer-term rates have crept up over the last several months, we are still seeing some very attractive terms being offered to borrowers. While there remains a good deal of uncertainty, I am confident that we will enjoy a significant boost as our economy opens up as Covid-19 fades away.
Ordinarily, Medalist Capital would be preparing to head out to San Diego for the Mortgage Bankers' Association's annual CREF Conference. In lieu of our annual West Coast pilgrimage, we have arranged video conference calls with almost all of our lending sources in order to get a feel for their appetite for loans in the coming months. Ordinarily, lenders tend to be a little more aggressive in the first half of the year as they strive to meet their annual production goals. We expect that to hold true for 2021. It is never too early for us to discuss upcoming loans, even if they are late 2021 or early 2022 needs. Again, many thanks to our clients and lenders for helping us have another record year. Records are satisfying to celebrate, but more important to us are the invaluable relationships we share with all of you.
Best wishes for a healthy, happy, and prosperous 2021,
Rob Wilson