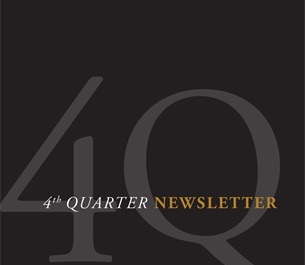 4Q Newsletter - 2019
We hope everyone had a great holiday season being with family and friends. School starting back has been a positive in the Raleigh office – a little less parent Uber service has been welcomed!
To say the least, Medalist Capital is very thankful for 2019 as many records were broken! In our 3rd quarter newsletter, Howie "The Machine" Brooks was on target indicating that we were on track to close $1.7 billion in 2019. Due to a tremendous 4th quarter, closing 41 loans totaling $616 million, we clipped his prediction by closing $1.71 billion! Loans ranged in size from $1.5 million to $63 million ($15 million average) and included a wide variety of property types including retail, industrial, office, multifamily and self-storage. Borrowing rates during the quarter ranged from 3.20% to just over 5.00% depending on term, leverage and the timing of rate lock over treasuries. It is incredible how attractive these long terms rates continue to be. As always, we are very appreciative of our correspondent life insurance companies, which are the best in the industry in my humble opinion, as well as many other capital sources for providing the most competitive loans available in the market.
Treasuries continue to be mighty kind to our borrowers. The 10-year treasury was at 2.71% a year ago, and this past summer we witnessed a historic low of 1.47% in August. As of January 14, 2020, the treasury sits at 1.78%. I wish I was smart enough to know where treasuries are headed – I am tired of being wrong, so I will not make any predictions! With a new year, our life insurance companies get new investment allocations to put out for the year. Typically, the first quarter is one of the best times to be a borrower when our lenders are anxious to get deals signed – the pencils tend to get sharpened a bit tighter!
In early February, Medalist Capital will be sending a large group to the MBA CREF Conference in San Diego to meet with our life insurance companies and several other capital sources. We expect that many lenders plan to increase allocations over 2019 levels as real estate continues to be a favored investment class. To our borrowers, we would love to discuss your 2020 deals in San Diego during our meetings, even if they may be second half of the year transactions. It is a perfect time to "tee up" transactions while we are meeting with our loan coverage officers as well as key committee members who are approving our loans.
Again, many thanks to our clients and lenders for helping us have this record year. Big numbers are great to celebrate, but we mainly value and enjoy building our relationships with all of you. Please know how thankful we are for each of you! Looking forward to a great 2020!
Best Regards,
Bat P. Barber