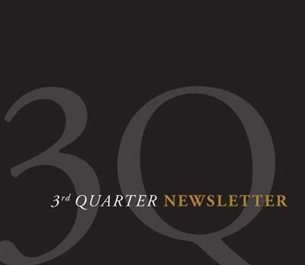 3Q Newsletter - 2019
We were very busy at Medalist Capital in the 3rd Quarter. We closed 27 loans totaling $545 million and had one of our best months ever in October with 10 closings totaling $347 million. Medalist Capital is currently on track to close $1.7 billion dollars in 2019, our best year since inception in 2004! Our servicing portfolio had a 12% year-over-year increase and should reach $3 billion by year-end.

Medalist Capital will celebrate its 15th anniversary in November of this year. I joined the company in 2006 and have enjoyed being part of a company that prides itself on a culture grounded in integrity and loyalty to our clients, both Lenders and Borrowers, and also a drive to be the very best in our markets. We are supportive of one another and work hard to maintain a positive, engaging culture. We enjoy watching each other succeed and our motto is "Battle." Medalist Capital's success is greatly due to the fact that it was built from the ground up, as we started 15 years ago with a servicing portfolio of zero. Today, Medalist Capital is considered to be one of the premier, privately owned mortgage banking companies in the country. In 2019, we project closing 120 loans with over 45 different capital sources: life companies, banks, debt funds, credit unions, and CMBS lenders.

As we head into the 4th Quarter, we must be aware of the persistent headwinds. The continued talk of the Trump impeachment, an inverted yield curve, negative interest rates, trade wars with China and Europe, Brexit, the pending elections, recession, and so much more. Headwinds could create potential problems, but problems with a solution have a way of getting fixed. We are located in strong markets with excellent fundamentals. People are relocating to our markets in record numbers, with some markets attracting over 100 new people a day. Our markets are resilient and should hold up even with a global slow down.

In closing, we are fiercely competitive and fiercely loyal at Medalist Capital. Interest rates are at all-time lows – approaching 3% across the board – and may be headed lower. We would welcome the opportunity to advocate on your behalf. I feel certain that in five years you will look back on a 3% interest rate handle and wish you had more debt at those levels. The opportunity to lock into long-term cash flows is unprecedented. Take advantage of the low interest rate environment. We stand ready to help and look forward to being on your team.

Cheers to 15 extraordinary years and cheers to many more extraordinary years ahead!
Best Regards,
L. Howard Brooks