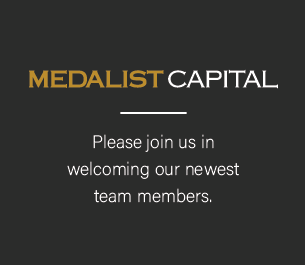 Medalist on the Move
2019 has been a busy year thus far from both a production and hiring perspective. We recently hired a new producer in the Charlotte office, an analyst in the Charlotte office, and a new loan coordinator in the Atlanta office. Read more about the experience they bring to Medalist Capital below. We are excited to have them on the team!
Clyde Nelson
Mr. Nelson brings more than 30 years of institutional fixed income, business development, management, and investment sales experience to Medalist Capital. Prior to joining Medalist, he specialized in investment sales at Marcus & Millichap advising clients on the acquisition and disposition of commercial property.
Abby McDonald
Abby joined Medalist Capital in May of 2019 as an analyst. Prior to joining the Medalist team, she worked as an Investment Consultant and Retirement Specialist at Vanguard in Charlotte, NC. Abby also completed a summer program as an analyst at Morgan Stanley in San Francisco.
Lindsey Barnett
Lindsey joined Medalist Capital in the Summer of 2019. She previously worked as a mortgage specialist for The Peoples State Bank. She also participated in the Governor's Internship Program for the State of Georgia.
Lindsey is a graduate of Clemson University where she earned a BA in political science and a minor in legal studies.
2019 Summer Internship Program
As summer comes to a close, we proudly congratulate Conor Ussery from Far Hills, New Jersey and Jack Rusbuldt from Richmond, Virginia on their contributions to our summer internship program. Conor assisted the Charlotte office and will graduate from Clemson University in May of 2020. Jack assisted the Raleigh office and will graduate from University of Richmond in May of 2020.