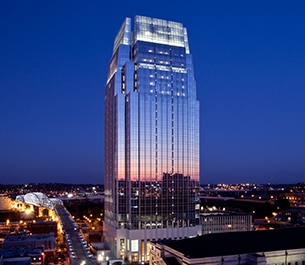 Medalist Capital Arranges $100 Million Debt Placement for The Pinnacle at Symphony Place in Nashville
Medalist Capital recently arranged financing for The Pinnacle at Symphony Place in Nashville on behalf of Highwoods Properties. The debt placement team was led by Bat Barber, Principal, in Medalist's Raleigh, NC office with one of their correspondent lenders, Allianz Real Estate, who was the sole lender on the $100 million financing.
The loan is secured by a Class A LEED Gold certified office property in the heart of downtown Nashville. The Pinnacle at Symphony Place, built in 2010, is a 28-story tower encompassing 520,000 square feet, which sits atop a 10-level parking garage with 987 spaces. The property is 99% occupied by 20 tenants.
Recently, Nashville has experienced well noted economic success due to its highly educated workforce and low cost of doing business. Companies are expanding in and new ones are relocating to Nashville, and total employment is on the rise.
About Medalist Capital
Medalist Capital, Inc. is a commercial real estate financial services firm offering Mortgage Banking, Investment Advisory, and Defeasance services to our clients. Since our inception in 2004, we have successfully completed over $8.9 billion in transaction volume and have offices in Charlotte, Raleigh, Charleston, and Atlanta.
About Highwoods Properties
Highwoods Properties, headquartered in Raleigh, NC, is a publicly traded (NYSE:HIW) real estate investment trust ("REIT") and a member of the S&P MidCap 400 Index. The company is a fully integrated office REIT that owns, develops, acquires, leases and manages properties primarily in the best business districts (BBDs) of Atlanta, Greensboro, Memphis, Nashville, Orlando, Pittsburgh, Raleigh, Richmond and Tampa.
About Allianz Real Estate
Allianz Real Estate develops and executes worldwide tailored portfolio and investment strategies on behalf of the Allianz companies, considering direct as well as indirect investments and real estate loans. The operational management of investments and assets is currently performed in 7 international subsidiaries and hubs in Germany, France, Switzerland, Italy, Spain/Portugal, USA and Asia/Pacific. The headquarters of Allianz Real Estate are located in Munich and Paris. In the US, Allianz Real Estate holds a loan portfolio of over $10.7 billion.